Hey all,

Recent reports of student loan scammers targeting borrowers are a harsh reminder of the lengths some people will go to to take advantage of others. The scammers typically contact victims by phone or email, promising them early access to the expanded relief program announced by the Biden administration. The scammers may say they're with your bank, loan servicer, the department of education, or even a 'loan forgiveness broker'.

Once they've hooked you, they might promise immediate relief, refunds, and prey on your emotions by requiring you to act quickly. The scammers then ask for personal information, such as the victim's Social Security number or bank account information, which they use to commit identity theft or fraud.

The best way to avoid becoming a victim of this scam is to know what the one-time forgiveness program offers and how to access it. These details have not been announced but keep a close eye on the student aid website, which publishes updates as they develop. You can check that resource out here:

https://studentaid.gov/debt-relief-announcement/

You should NEVER receive an unsolicited phone call from a governmental agency asking you for personal information. If you are contacted by someone claiming to be from the Department of Education or another government agency offering assistance with your student loans, be sure to verify their identity before providing any personal information. You can call the Department of Education's Federal Student Aid Information Center at 1-800-4-FEDAID (1-800-433-3243).

If you think you may have been the victim of a student loan scam, contact the Federal Trade Commission and the Department of Education immediately. You can also file a complaint with the Consumer Financial Protection Bureau.

In addition, be sure to take steps to protect your identity and financial information, such as monitoring your credit report for changes or unusual activity and signing up for a credit monitoring service. An excellent government resource will walk you through the steps of protecting your information from identity theft abuse. Check it out here:

https://www.identitytheft.gov/

To help spread the word, we created a couple of infographic resources which we're attaching to this post. One is in a poster-friendly format, the other is in a social media-style gallery. Feel free to share these resources as you see fit.

Stay safe out there.
-Marbaṩ
---

Example of

social media gallery
Video format of the social media post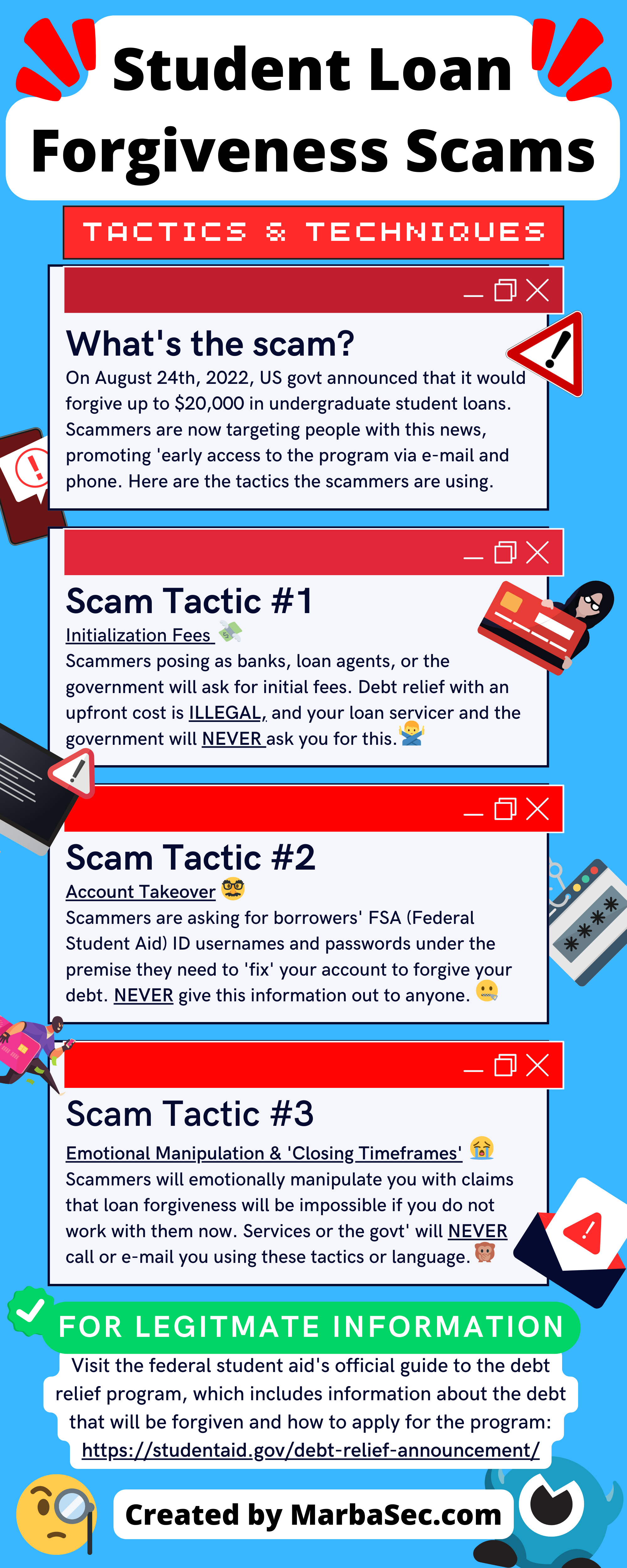 Example of poster